Local Government Areas¶
Disclaimer
Geoscape Australia believes this publication to be correct at the time of printing and does not accept responsibility for any consequences arising from the use of the information herein. Readers should rely on their own skill and judgement to apply information to particular issues.
This work is copyright. Apart from any use as permitted under the Copyright Act 1968, no part may be reproduced by any process without prior written permission of Geoscape Australia.
Overview¶
Local Government Areas is a spatial representation of the administrative divisions that local governments are responsible for across Australia defined by State and Territory governments. Local Government Areas aggregates the representations unique to each jurisdiction into a consistent seamless representation of the local government areas of Australia.
Geoscape welcomes your feedback on the Local Government Areas product. We also publish regular product development updates on our website ( www.geoscape.com.au ).
Release Summary¶
This product was released to customers on 20 November 2023 with data extracted on 13 November 2023.
This release is a full national data population for Version 2.0 of the Local Government Areas product, described by the Local Government Areas Product Guide v2.0.
Any issues that have been identified for this release are described in the Issues section.
Change Notifications¶
ESRI Shapefile width increase¶
Commencing with the February 2024 release, the width of numeric fields within Esri Shapefiles will increase by one. This is due to a bug fix in our packaging application. This change only impacts Shapefile metadata, the values and precision remain unchanged.
New data download portal¶
We're pleased to announce the launch of our new customer collaboration portal called Geoscape Hub ( https://hub.geoscape.com.au ).
Geoscape Hub brings the experience for both our dataset and API customers together into one unified platform.
A notification announcing the launch of Geoscape Hub, with instructions on how to access and use the new portal, was sent out to data customers on 13 September. If you did not receive this important communication, please contact our Support team (support@geoscape.com.au).
From 13 September, all users navigating to the 'Datasets' page in geoscape.app have been redirected to Geoscape Hub.
Removal of the 'Documents' folder from data packages¶
From November 2023, Geoscape will be progressively moving product descriptions, guides and reports online to https://docs.geoscape.com.au
Commencing with the May 2024 release, data packages will no longer include the Documents folder.
Updates¶
New and Retired¶
New LGAs¶
The Queensland Local Government Area of 'Moreton Bay Regional' has been renamed to 'Moreton Bay City'. This has resulted in an lga_pid update. This change has led to the creation of 100 new lga_locality table records.
| lga_pid | lga_name | state |
| --- | --- | --- |
| lga2myCy2EsI_Km | Moreton Bay City | QLD |
Retired LGAs¶
The 'Moreton Bay Regional' Local Government Area has been retired.
| lga_pid | lga_name | state |
| --- | --- | --- |
| lga4596f3dd38b9 | Moreton Bay Regional | QLD |
With the retirement of this record, the previous 100 related lga_locality table records have also been retired.
Three additional Local Government Areas have also have had records retired within the lga_locality table.
Two from NSW:
Queanbeyan-Palerang Regional Council - Locality of 'Back Creek'

Strathfield Municipal Council - Locality of 'Belfield'
One from QLD:
Barcaldine Regional - Localities of 'Quetta' and 'Laglan'
Spatial Changes¶
Spatial changes (area) greater than 1 km2 are shown below:
| lga_pid | lga_name | state | Difference SQKM | Old SQKM | New SQKM |
| --- | --- | --- | --- | --- | --- |
| lgab38446c5f322 | The DC of Lower Eyre Peninsula | SA | -2 | 4,776 | 4,774 |
Other Updates¶
There were no other updates.
Issues¶
New Issues¶
No new issues.
Resolved Issues¶
No resolved issues to note.
Known Issues¶
Un-enclosed gaps between Local Government Areas in NT¶
There are three un-enclosed gaps present in the Local Government Areas data in NT. These gaps are not valid and do not represent rivers. Below, the un-enclosed gaps can be seen between polygons when they are dissolved together.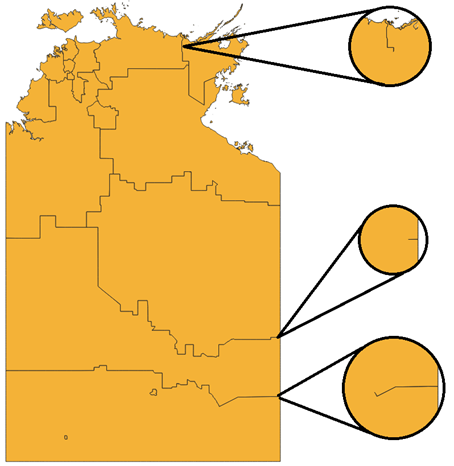 SA coastline generalisation for The DC of Grant¶
Jurisdictional changes to the coastline geometry have resulted in polygon generalisation for 'The DC of Grant' LGA in South Australia. This has reduced the number of vertices in the polygons resulting in geometry differences and, in some scenarios, the creation of new polygons for the LGA. Below is an example where the previous Admin Boundaries LGA outline (blue) can be seen compared to the new Local Government Area product representation (red area).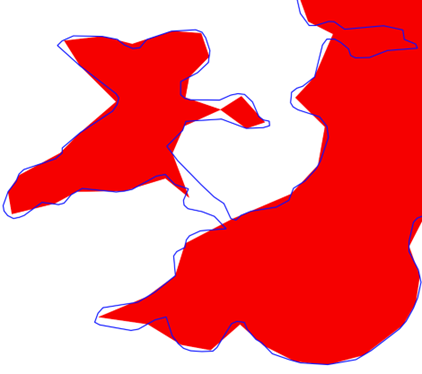 Geoscape is currently investigating this generalisation with the SA jurisdiction.
Single VIC lga_locality linkage not made¶
The LGA named 'Mount Buller Alpine Resort (Unincorporated)' (lga_pid = lga69dad94a9718) does not link to the 'Mount Buller' locality (locality_pid = 'loc8688ba223de1') record despite new rules which allow small LGAs that are contained within, or have large overlap with, a locality.
Future Considerations¶
This section outlines enhancements or changes under consideration, but not planned into a specific release. For further details on future initiatives, please contact Geoscape Support.
Annex A – Release Counts¶
Additional, retired and total Local Government Areas counts and the percent change to the previous release have been listed in the table below.
| TABLE NAME | | ACT | NSW | NT | OT | QLD | SA | TAS | VIC | WA | TOTAL |
| --- | --- | --- | --- | --- | --- | --- | --- | --- | --- | --- | --- |
| lga | Additional | 0 | 50 | 0 | 0 | 33 | 114 | 0 | 42 | 58 | 297 |
| | Retired | 0 | 50 | 0 | 0 | 33 | 114 | 0 | 42 | 58 | 297 |
| | Updated | 0 | 0 | 0 | 0 | 0 | 0 | 0 | 0 | 0 | 0 |
| | Total | 0 | 198 | 800 | 3 | 209 | 173 | 533 | 92 | 201 | 2,209 |
| | % Change | 0.00% | 0.00% | 0.00% | 0.00% | 0.00% | 0.00% | 0.00% | 0.00% | 0.00% | 0.00% |
| lga_locality | | 0 | 5,022 | 318 | 3 | 3,345 | 2,076 | 888 | 3,339 | 1,753 | 16,744 |